full-body diagnostic imaging
EagleView™ Wireless Portable Doppler Ultrasound
Buy Now
*Rx only, for use by qualified, trained or licensed healthcare professionals.
Full-body diagnostic imaging
EagleView™ Wireless Portable Doppler Ultrasound
FDA APPROVED

CE CERTFICATED
$3,200
*Rx only, for use by qualified, trained or licensed healthcare professionals.
Point-of-Care Imaging in your pocket
SMALL, LIGHT AND CONVENIENT
With only about 260g (0.6lbs), it contains everything you need to image a full human body. Put it in your pocket and bring it to the bedside of every patient. Designed for remotable and efficient diagnosis.
completely Wireless For efficient disinfection
EagleView wireless ultrasound probe makes your practices fully wireless and easy to disinfect in a short time. It supports wireless charging. Help to reduce the risk of infection during Pandemic. This handheld ultrasound scanner with a built-in wifi signal is able to connect to both iPhones and Android phones.
What professionals are saying
Dr. Mustafa Taha from Yemen
"Through my personal experience of wireless dual head ultrasound that EagleView developed, results were very good and picture quality is good..."
Read More
Alex Alcaide Aldeano, Senior Medical Student at University of Barcelona from Spain
"This device offers very good image quality, settings, and modes for a reasonable price. Advanced imaging settings with several imaging modes (B, M, color doppler, PDI, PWD). Aesthetic, somehow light and not clunky. Long battery duration and fast charging."
Read More
See More
See Clinical Images In Crisp & Clear
Rapidly identify patients' anatomy on your phone. Get fast ultrasound images in HD.
Small probe with great capablity
3 Arrays, 5 Imaging Modes, 15 Presets
8 levels of depth to adjust:

20mm/40mm/60mm/90mm/100mm/
160mm/220mm/305mm

4 levels of frequency to switch:

3.5mhz/5mhz/7.5mhz/10mhz

Flexible noise decreasemens and gain values

to fit the best of image quality
Pulsed Wave Doppler Adopted
Get measured velocity point to point on your screen with our built-in Pulsed Wave Doppler.
Detect Every Small Abnormality on Phone
Pause anytime during your scanning process to detect unusual events that happen to patients. Capture clinical images, video clips and get detailed measurements in seconds.
Quick Measurements on Screen
Identify abnormalities easily and get length, angle, area and trace measurements right away.
Save & Share Diagnostic Results with Notes
Enter patient's name, gender and more details on app. Save image or video and download the file with your observation to smartphones or tablets. Share results with other physicians and your patients to help them stay informed.
QUICK TUTORIAL
LET YOUR PEERS DO THE TALK FOR US
HOW TO GET THE MOST IDEAL ECHO VIEW?
Learn to adjust the parameters on the app to get the best image quality that fits your needs.
HOW TO DETECT ABNORMALITIES IN SECONDS?
Watch registered diagnostic medical sonographer Naroopa Narine is demonstrating how to utilize EagleView wireless probe in Thyroid measurements.
Connect to your iOS or Android, or both.
check ultrasound images on Smartphones and tablets
Eagleview ultrasound
I am impressed in the software suite that is used for this machine. I am a cardiologist and for cardiac imaging many times the images were suboptimal and there were times I could not see anything. We would appreciate some more software optimization for cardiac imaging such as automatic setting adjustments for cardiac imaging.
The best image quality-price ratio IMHO
From all the hand-held pocket devices I've tested (you can watch them in my YouTube channel "Masters of Ultrasound"), this device offered the best image quality for the least money spent IMHO. I've reviewed it entirely and apart from aesthetics and portability due to light weight, I would highlight the long battery duration, quite superior over competitors, as well as the variety of imaging modes for a multi-purpose scanner and the lack of a subscription nor membership. I would also like to add the quick boot-up time and the amount of settings that allow to optimize the image manually. Finally, same with all my reviews, I like to be impartial and thus give some downsides as well. In this case the cons are quite relative (they might be for some people and not for others), I would say the lack of a cloud environment to save, read or share the images (it is done entirely on the device used while scanning), plus the color doppler mode having some room for improvement... Will see how they overcome it in the future!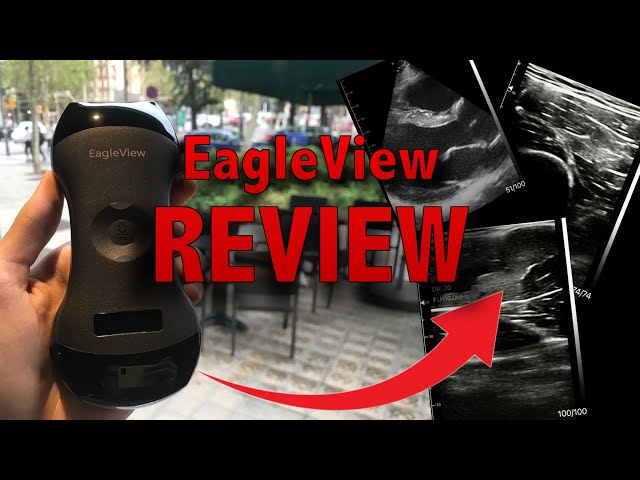 Amazing
Good image quality, an useful help for my everyday practice as a GP with interest in POCUS.
It's really useful. The images have a great resolution.but it would be great if PWI could be used at the same time as color doppler so the vascular diagnosis can be more accurate
Excelente para bloqueios regionais
Como residente de anestesiologia de um hospital pblico brasileiro com poucos recursos, o ultrassom eagleview pode ser perfeitamente utilizado para realiza??o de bloqueios regionais, com uma resolu??o tima para bloqueios de extremidades.